So yea I am getting the journals going here that I have on another site and here's my big tank
This tank has been up and running in some way shape or form for the last 4 years. It has been a constant evolution. Here are some shots of the tank when it was a lo tech setup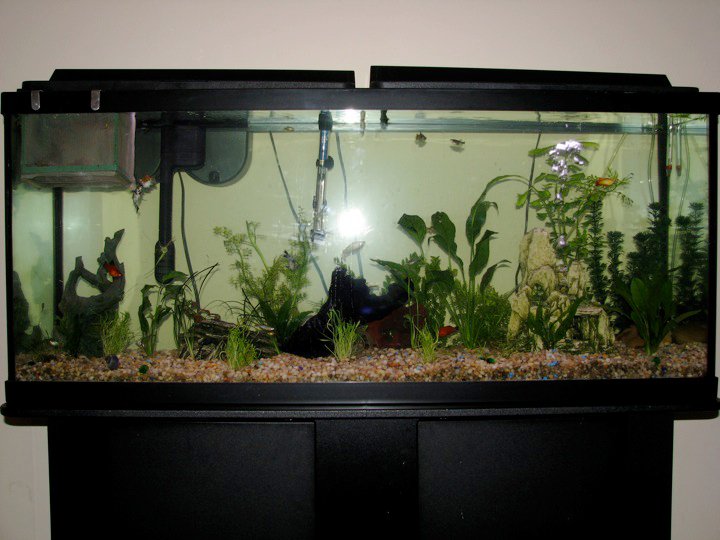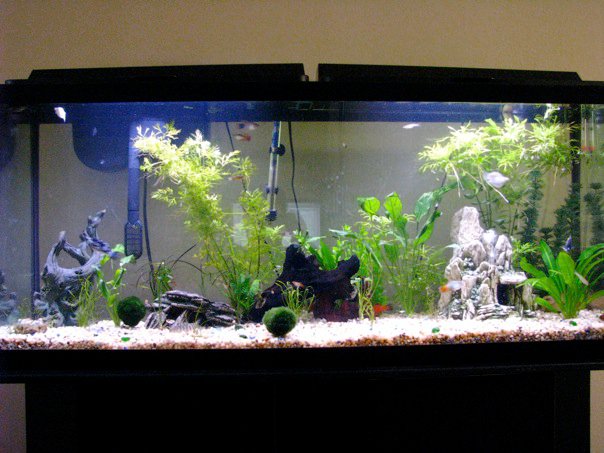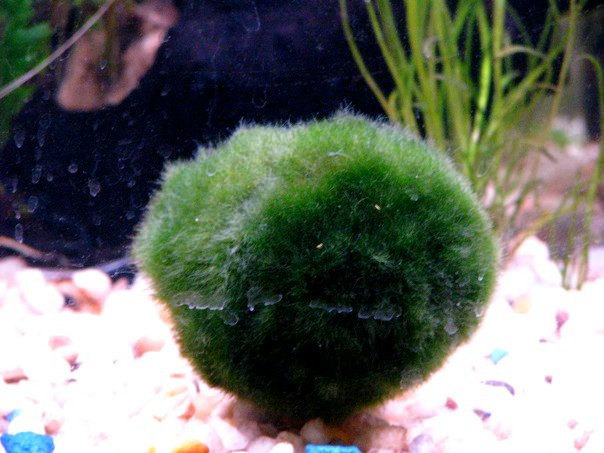 All was jim dandy and fine but then the plants got to be too big for the lighting and lack of CO2 that I had in the tank (some plants such as the swords I didn't know about root ferting) suffice to say everything melted and the tank got sad for about the last year, to the point where I was taking out more melted plants than anything.
So that got me to thinking and it's about oh 6 months ago that I decided that I was going to go all in with this tank so I started hunting craigslist for high tech items (lights, filters, co2, etc etc...) and then I found an add for a complete co2 setup (including a beastly 20 LB Co2 tank with diffuser, digital ph controller, the whole 9 yards) for about $150 and it was over at that point, here my friends is the transition and changes from lo-tech to a high tech planted tank
Incoming Wall of Photos Crit!!!!
10/11/2012
My New CO2 Tank (20lb monster I may need to re-work the regulator connection tomorrow since it's not fully installed yet...
My New Electronic Regulator and Bubble Counter (The CO2 system is not setup right now because in my efforts to re-attach/re-seal I broke a washer and didn't have an extra one, gotta buy that tomorrow )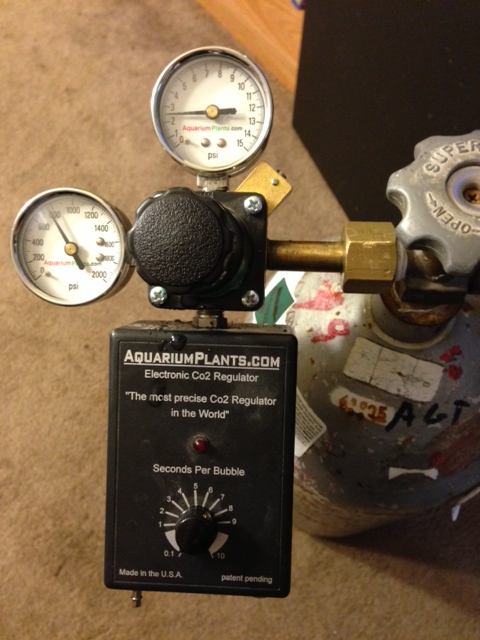 2 Curious cats and a nosy dog and my not paying attention and my canisters carbon as well as me all over this will be next weekends project..... (there will be pics of them later)
New Canister Filter - I may be having some questions about these soon, like I said it's my first round with anything more than a simple setup: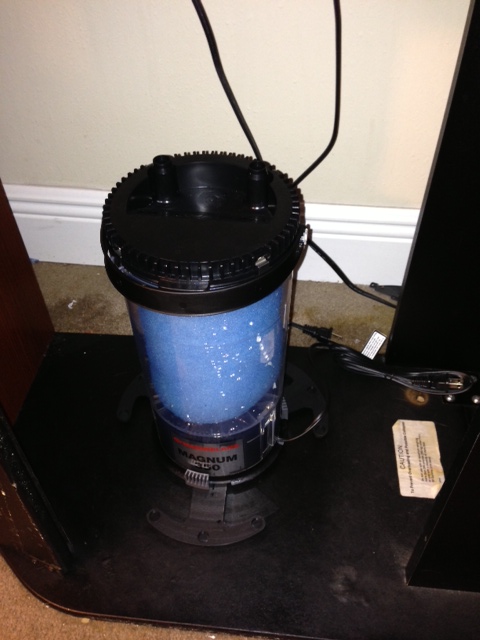 In the Water (no tubes hooked up here) BTW it was about this point where I realized that I wasn't in Kansas anymore with this tank...
CO2 Diffuser, this had been sitting out of a tank for a few months and was quite dirty, there was some media there (not sure why but I bought new to make sure it operated the way it was custom designed (or appeared to be)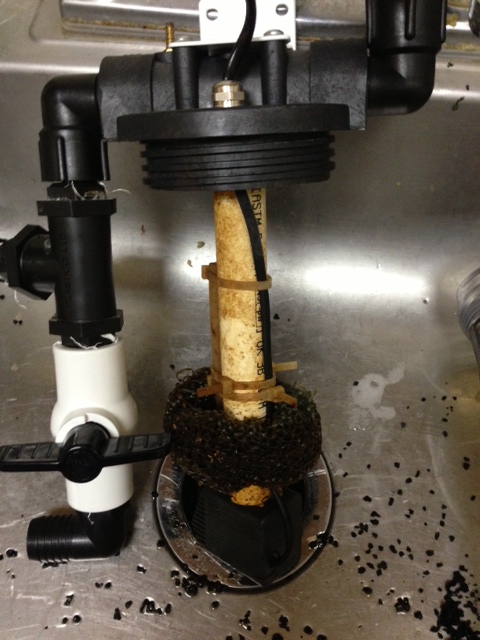 CO2 Diffuser, all cleaned up and ready to be primed
I got to be a plumber tonight too! Had to change some fittings, and am very proud to say that the setup has been running for ~2 hours now with no leaks, it's all downhill from here!!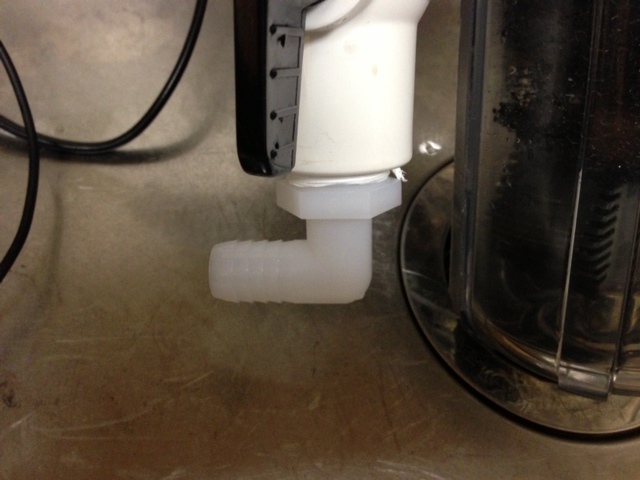 And it was all going great until....the curse of the 9.6v drill kicked in trying to drive the screws to mount the diffuser, I'm not upset though it gave me a beer break
Here's my temporary water routing setup (well as clear as I could get), I need to figure out how to increase flow a bit it doesn't feel like it's pushing the 350 GPM through -- The Yellow attachment is the PH controller (which I have to get warranty repaired)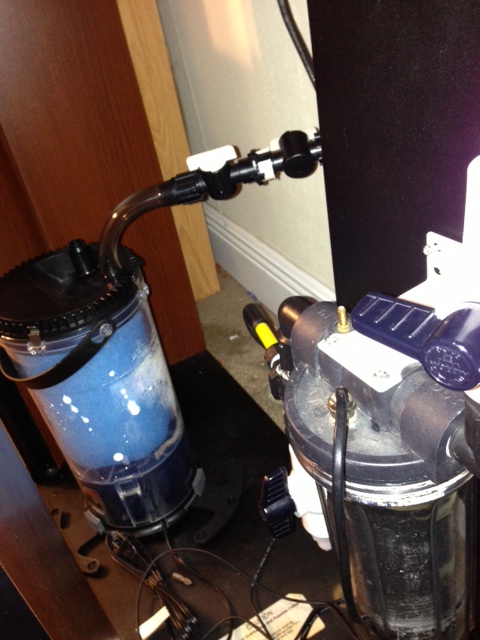 The view from above before attaching lighting (system is running but see what I was saying about low flow?)
My old lighting system (not sure what I am going to do with them) and YES I sure did use some tin foil to try to reflect more light I'm not really sure if it worked well or not...The green Device is the PH controller digital part (which is the part that I need to warranty replace)
And the Finished (somewhat crooked end product for the evening) What a transformation!!!!!!!! I can't wait to see how the plants do and I can't wait to start getting some other new plants in this tank (currently only very beat up wysteria, java fern, and xmas moss, ultimately want to moss wall and shrimp this tank)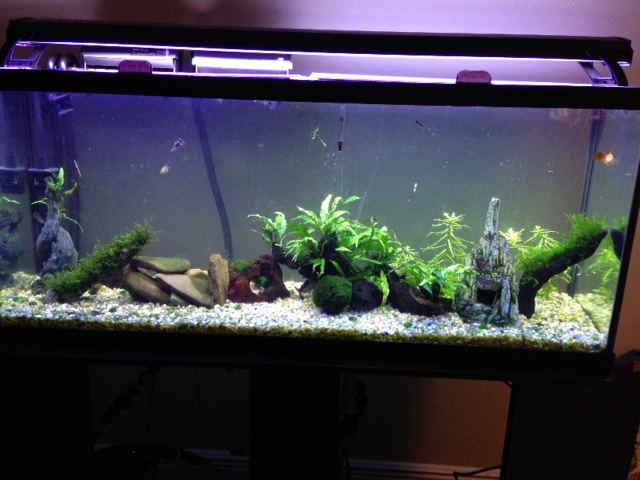 The Following is Information about the setup of the tank
Size: 55 Gallon Standard
Light: Coral Life 48" 2x54w T5HO 10,000k bulbs (was 2x18w t8 bulbs)
Filtration: MarineLand 350 Magnum Pro Canister (previously was whisper 70 gallon hob)
CO2 Tank Size: 20 Lbs
CO2 Regulator: AquariumPlants.com Electronic Regulator with electronic bubble counter
CO2 Diffuser: Outbound Powerhead difusement prior to re-entry into tank
Ferts: I've got the specs around here somewhere, I got it from a forum member
Substrate: Standard Aquarium Gravel (planning on adding some type of root tab here soon to improve quality)
Wow that's prob pretty long, if you've stayed this long thanks for looking, I welcome your opinions and suggestions as this is my first go at a high end set up (and I'm pretty stoked and pretty nervous all at the same time, it almost feels like I've started a whole new hobby)
I do know that over the coming weeks-months I am planning redoing a lot of the interior of this tank to bring in more driftwood for ferns and removing some if not most of the large rocks and the one last fake decoration
-------------------------------------------------------------------------------------------------------
10/11/12 Update:
Wow I'm making a ton of mental notes on how I want to setup my next tank as I have now started to add 40 LBS of the Floramax that I just got.
Here is a picture of the bag, the guy at the store swore by it and it matched my color scheme.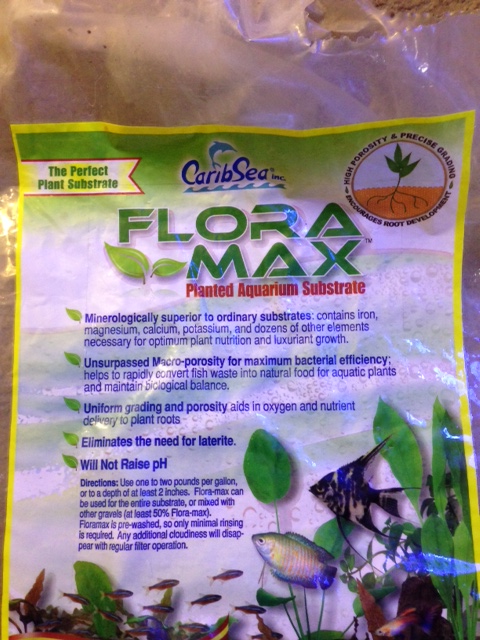 So I wanted to give a little bit of an update to today's activities on my now 2 day project
The New Substrate (to be added to approx 50% of the old stuff) Only two helpers today, the dog didn't want anything to do with it I think he knew the impending doom coming to the tank which has been running for approx 3ish years as you'll see in the next photo (included with some new plants REally excited about that! )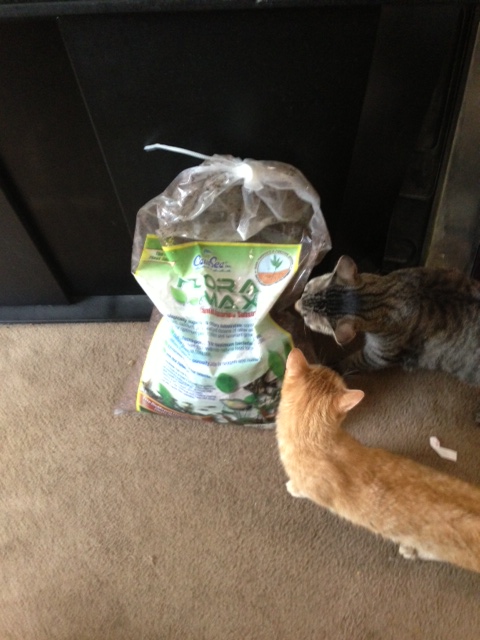 Time to go fishing!!!!!!
He has to watch the entire way. I am currently running my canister and the HOB filter together to try and clear up this water a bit while I work on the CO2 setup and lines (also to dry out a bit, I've been washing substrate and laying it for ~2 hours at this point)
OK End of the all day marathon!
So I have everything all set up although I know that I am going to be doing some tweaking in the future (things like cable management, hose management etc...)
So here is the setup CO2 system showing operational, the magic number for it to put a puff of CO2 into the system seems to be about 6 PSI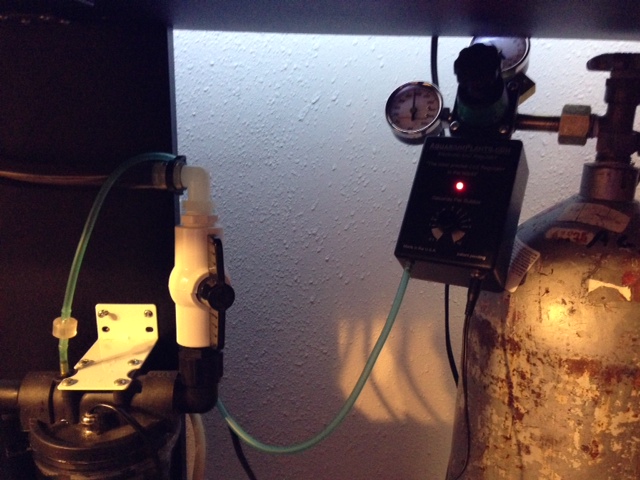 Now we have the tank setup, the water is clearing, the fish seem to be OK and I think I definitely like how it's set up now better....
Wow the last two days have flew by!!!!!!
---------------------------------------------------------------------
10/15/2012 UPDATE
10/15 Update....
I wanted to add some close up shots of some of the plants (already getting growth) and I wanted to kind of have a starting base on things such as the xmas moss and the java fern and to see if it improves
I also got a Coralife digital powerstrip/timer (with the eventual plan of adding LED moonlights that would go on when the main lighting goes off)
I also performed some MUCH needed cable management
I also had to exchange the CO2 when I went in the guy looked at me and said "How long have you had this tank? We haven't labelled tanks like this in forever, I can't refill your tank, I have to exchange it" which may explain why I had no pressure he said that the tank was several years since it's last fill.
So I guess I will see how the new tank does today while I'm at work
New Light Schedule:
2PM-11PM (my normal viewing times when I am home)
7AM-2PM - (some ambient indirect sunlight, nothing major but there is some)
------------------------------------------------------------------------------------
Update: 10/19/2012
So I thought that I would throw in a small update
I was getting some good growth here but they were coming in all different sizes all over and growing oddly so I re-arranged and replanted most of these: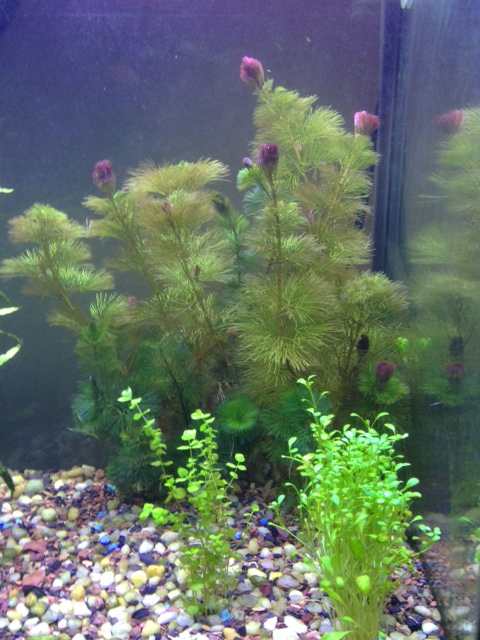 My Moss has been taking off, in fact with the tank maintenance I was able to ease enough off while doing a slight movement that I was able to cover the rest of the top of the rock....getting ready for my plans to move the moss over the rest of the rocks.....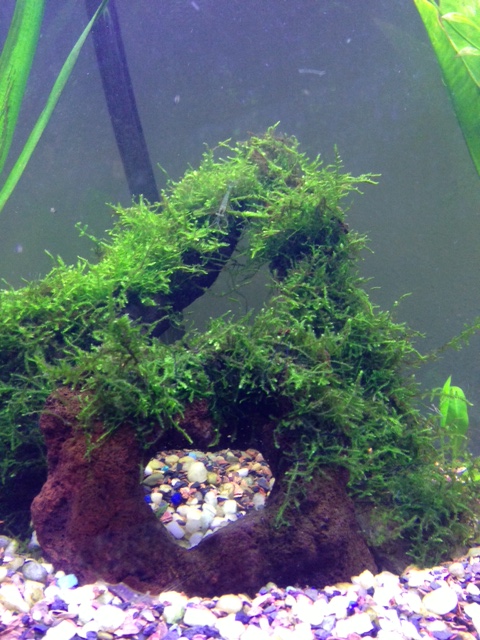 --------------------------------------------------------------------------------------
Update: 10/23/2012
Think I'm going to start taking pictures before my Wednesday maintenance just so I can keep track of it over time
So without further delay....
As for an equipment update, my friend has ascertained that the PH controller has a bad chip and he is on the hunt to find one so I can get that going, I will also be trying to find some LED moonlights for night time viewing
---------------------------------------------------------------------------------------
Update 10/29/2012
So the Carolina Fanwort got a trim tonight in order to help it grow at the same level, I took the trimmings and replanted them below to keep the low to high appearance going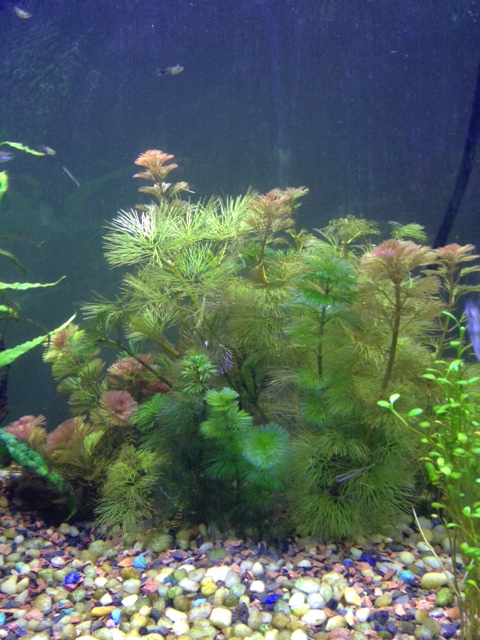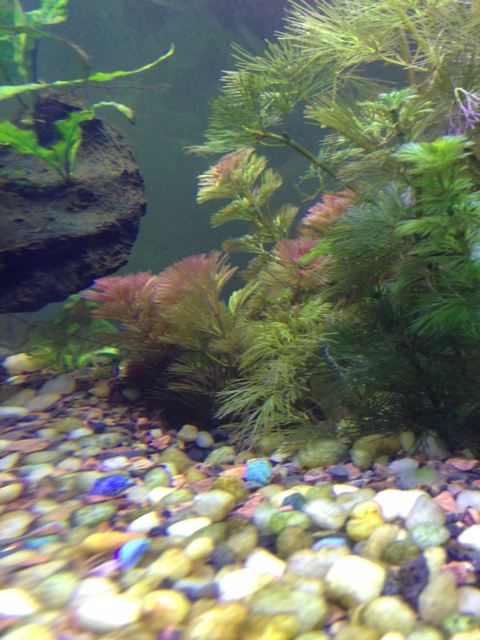 Have also adjusted the CO2 and have now increased to about 75 BPM and have been seeing larger/increased pearling and the inhabitants seem to be alright with it. Going to edge it up just a bit more the next week to attempt to get some super growth to get through the algae phase...
Got some flame moss in from a friend and some SS mesh and promptly added them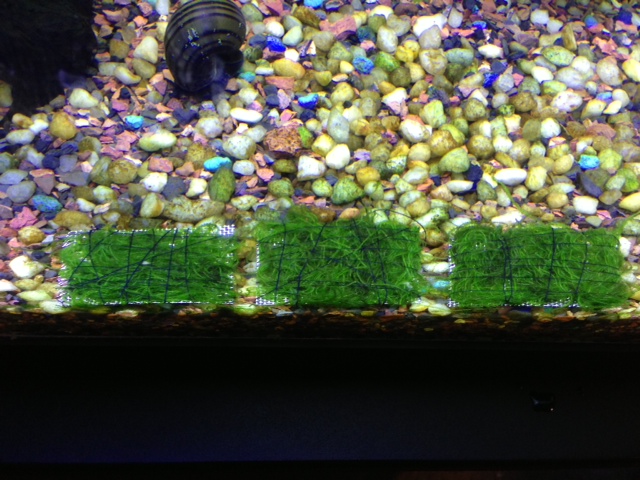 Will be adding more Rocks to create caves and hiding spaces and to scape it a bit more so those will be coming soon
-----------------------------------------------------------------------------------------
Update 11/7/2012
So now that things seem to be in a much more stable place in the tank I thought that I would give an update as to what I've done
Things added this week
More rocks for caves for some Bristlenoses coming in I can't wait!!!!
Pfertz Root tabs -- already seeing POSITIVE results
About 3 dozen ghost shrimp (traded in some guppies trying to get rid of them -- the guppies)
Things taken out
About 6 Adult Female Guppies (all quite ready to give birth) and some fry Off to the LFS but they were Fancy Guppies so someone will get a bundle of joy MWAHAHAHAHAHAHAHAHAHAHAHAHA
Did a good trimming - Having quite a bit of success with excel in getting rid of the BBA and haven't seen much being added so I think I have everything balanced out
About 1/3 of a bucket of plant trimmings between the Fern, some moss that was BBA ridden, and trimmed back other plants
Other good things this week
Bristlenose Plecos coming in Added small hiding areas througout the tank and created 3-4 mini caves for them
Made a cave area out of the xmas moss in the left hand side of the tank
Shrimp population seems to not be dying off as bad as it was
I'm seeing a small section of snails surviving in the tanks, I am sure they came in with some plants but are quite readily cleaning up the algea that I have been killing off, soon they will meet their end with the YoYo loaches
The Amazon swordlet plants have been doing great in the three days since I added the pfertz and are growing nicely
I had a great week with Algea this week and I think that I am starting to come out of the woods now using excel in conjunction with my CO2 setup (WOOT WOOT) I only had to scrape a few quarter size areas of the glass this week where the previous weeks I had been scraping basically the entire tank walls!
In other news my buddy is still tinkering with the PH controller, it's not any of the chips or processors so he's moving on to the resistors and diodes and fun stuff Can't wait to have that to get that running in the tank. I am also trying to plan out some other changes including covering the back wall with black, and working on some LED moonlights for late night viewing
Anyways onto the things which I am sure you all want to see....This week's pics!
Before
Here is a full shot of the tank
Some great growth from everyone in the tank, especially the carolina!
After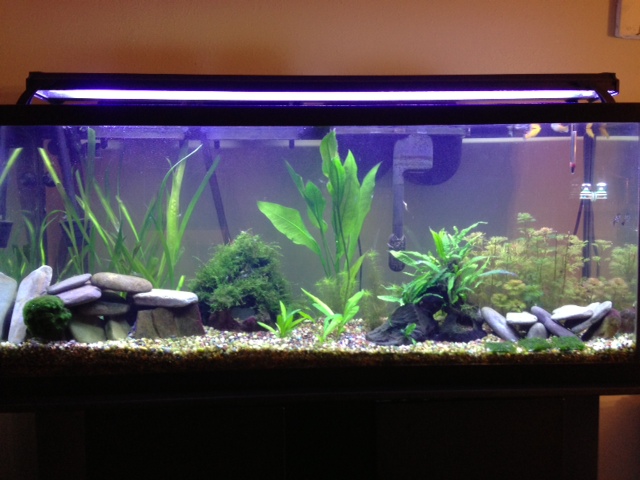 So you can see I did quite a bit of trimming and I rebunched and replanted the trimmings from the Carolina, it's starting to get fuller over there which is what I wanted, soon I will let it start taking off and then I will be sharing
-----------------------------------------------------------------------------------------
Update 11/13/2012
So after the smackdown that I laid on the BBA with excel spot dosing I melted my Val.....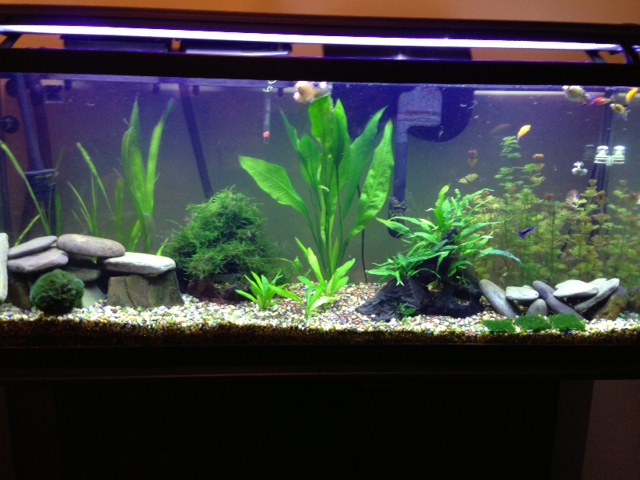 You can see the damage I did with the excel (lesson learned)
However the good news is that there appears to be a few runners coming off so I gave the bigger leaves a STRONG trimming to get rid of any leaves which didn't appear healthy or with spots that appeared to be excel ridden. The good news is that in doing that I moved a few of them around and the root system is awesome so I'm hoping for a good bounceback!
I have been getting some great growth out of the 2x2 flame moss mesh which shot up overnight!!!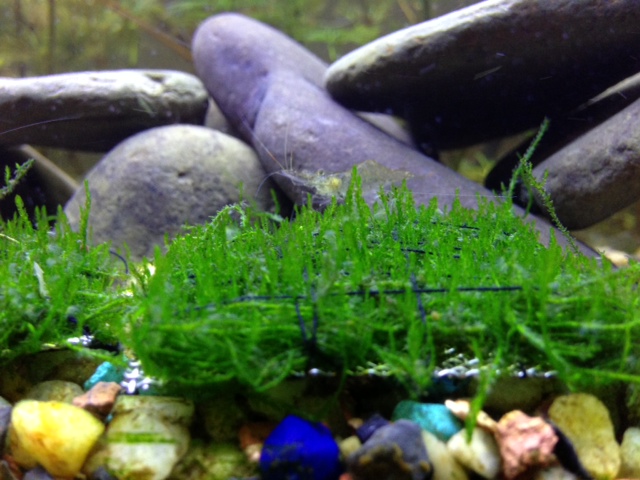 The Xmas moss has had good growth and in fact with tonight's trimming I was able to finish covering the rock up front there so now I can get ready to start moving it across the other rocks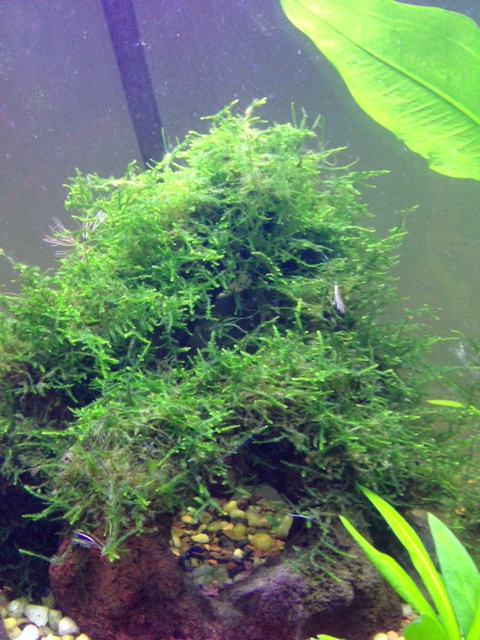 And here is the current tonight The swordlets look good and the LFS had a plant with red so I figured that I would give it a try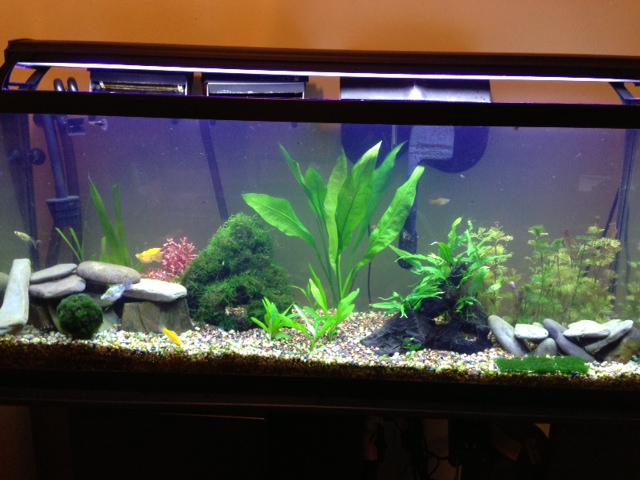 Also on a sidenote the algae issue has pretty much cleared up as well, I have adjusted lighting and have lightened up the fert dosing so coupled with the addition of some bristlenose plecos have really turned that issue around, I only found 1 or 2 very small dots tonight on the glass.
-----------------------------------------------------------------------------------------------------
Update: TANK AS OF 11/14/12
So I added a black background and it really brought the tank together! Here's the final update that will get you guys up to where I am as of right now 830 PM!!!
Thanks for dropping by everyone! I will have more pics/updates to come!!!!